What do you get when you combine scouting, friends, and the Evo campsite? Well, Kajo, of course! 
The registration for Kajo, for Finnish and International Participants alike, is now open and will be so until 2.2.2022.
Please note that we have a participant limit of 2000 for International Participants. Those groups that registered during pre-registration last July have guaranteed spots, and the rest will be filled in the order of registration. But not to worry! In the pre-registration the limit was only half-filled, so we are happy to welcome approximately 1000 new participants. We just wanted to let you know this just in case a lot more people around the world get very excited about Kajo before registration ends. We will send you final confirmation of your registration after the registration period.
For international groups and participants registration consist of two parts: 
Group leader registers the group

 and creates a registration code for group members. (If you are travelling alone, you are a group leader of your group of one. Follow the Instructions for group leader.)

 
Group members register themselves

 by using the group registration code created and shared by the group leader

 
If you have any questions, please contact international.kajo2022@partio.fi  
Registering the group
(done by the group leader) 
2. Fill the group registration form carefully. Give an answer for every question.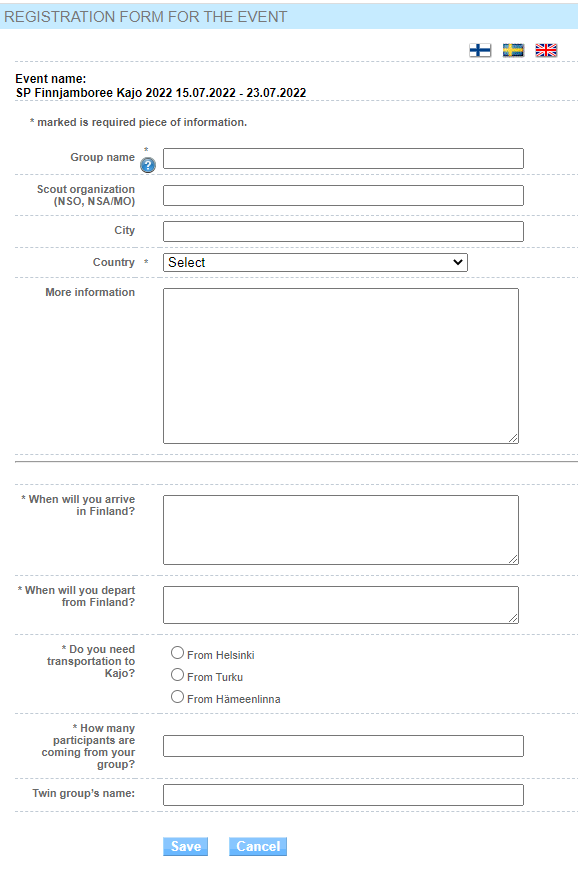 3. After filling the form, click "Save".  
4. Fill in your personal information as the group leader. Remember to save the registration by clicking "Save" in the end of the form.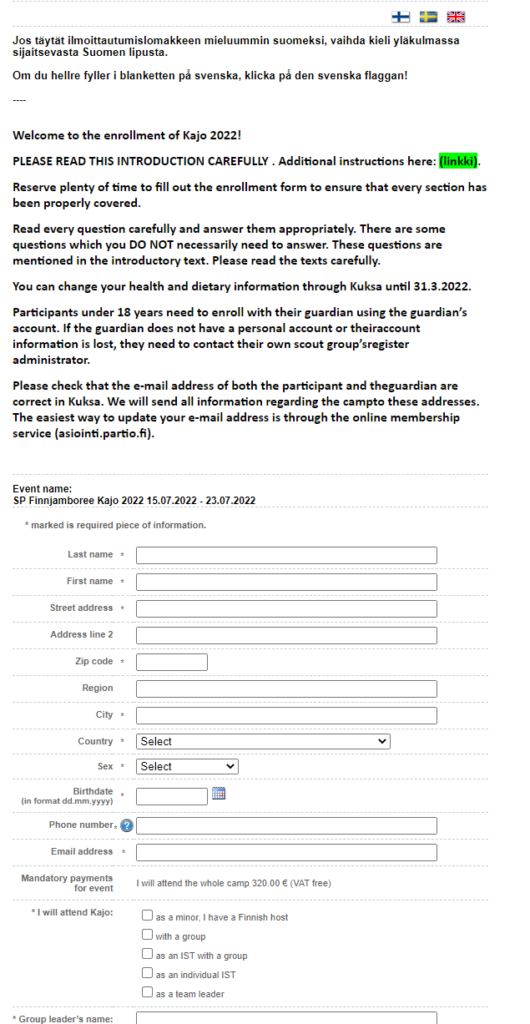 5. Next you will see your group information.  
Make sure to save this information as you will need it! 
Group registration link: 

the members of your group (or their guardians) will register using this link 

 

Group registration code: 

This is needed when group member registers themselves for the camp. Distribute this code to the members of your group. 

 
Group leader registration code: 

This code is needed to modify the group registration. This is only for the group leader. Do not distribute it. 

 
Registration of group members
(done by the participant or their guardian) 
Group leader shares the registration link: https://kuksa.partio.fi/Groups/login.aspx and the group registration code to the group members.  
Group member registration is done by themselves or their guardian by following these instructions:  
1. Follow the link and choose the option Sign up with the code. 
2. Copy the group registration code received from group leader into the form. 
3. Fill in the participants information and save the registration by clicking "Sign up" in the end of the form.